If you're looking for a reliable and cost-effective junk removal service to help you sort through your items, there are many factors to consider before making a decision. You want to make sure the company you choose has experience in tackling the kind of project that awaits them and can complete your job efficiently. From knowing exactly what services they provide and what materials they accept, to learning how much their services cost and ensuring quality customer service – these are all key considerations when choosing the right junk removal service. Let us guide you through all the important information that will help you select a reputable business in order to turn trash into treasure!
Identify the type of junk you need to get rid of and the volume of it
Everyone has some sort of junk they need to get rid of, whether it be old furniture, electronics, or just miscellaneous clutter. The first step in tackling this daunting task is to identify exactly what type of junk you need to dispose of. This could mean taking inventory of everything in your garage or attic, or simply making a mental note of the items that have been taking up space in your home. Once you've determined the type of junk, it's important to estimate the volume of it as well. Will you need a small pickup truck or a full-sized moving van to haul it all away? By answering these questions, you'll be well on your way to clearing out the clutter and making room for more important things in your life.
Research different junk removal service providers in your area
Finding a reliable and affordable junk removal service provider can be a daunting task. With so many options available in your area, it can be tough to determine which provider best meets your needs. However, taking the time to research and compare different service providers can mean the difference between a stress-free experience and a headache. Look for a provider that has a proven track record of prompt, courteous service and is transparent about their pricing and fees. Don't settle for the first provider you find – take the time to compare multiple options before making your final decision. With a little effort, you can find a junk removal service provider that meets your unique needs and budget.
Compare prices and services offered by each provider
When it comes to choosing a provider, there are many factors to consider, and pricing and services are often at the top of the list. Each provider offers a unique combination of pricing and services, and it's important to compare and contrast them thoroughly before making a decision. Some providers may offer lower prices, but not provide the same level of customer service or additional features that others do. On the other hand, some providers may charge more but offer top-notch customer service and a wider range of services. By taking the time to compare prices and services, you can ensure that you get the best value and the services that best fit your needs.
Check their reputation – reviews, ratings, etc., to make sure they're reliable
When it comes to hiring someone, whether it's for a service or a job, it's important to check their reputation. How can you ensure they're reliable? One way is to read reviews and ratings from previous clients or customers. This feedback can provide valuable insight into their work ethic, communication skills, and overall performance. It's always better to be proactive and do a quick background check before making a decision, rather than regretting it later. So, take the time to research and evaluate their reputation to avoid any potential headaches down the line.
Make sure they're properly licensed and insured in case of any accidents or injuries
Accidents can happen to anyone, at any time, and it's important to be prepared. Whether you're getting work done on your home, hiring a contractor, or even renting a car, it's essential to ensure that the person or business you're dealing with is properly licensed and insured. This not only protects you in case something goes wrong, but it also shows that the person or company takes their work seriously and is committed to doing things the right way. Don't take any chances when it comes to your safety and wellbeing – always ask for proof of licensing and insurance before you proceed with any work or transaction.
Ask questions if there's something you don't understand or want clarified before choosing a provider
When it comes to choosing a provider, there are a lot of factors to consider. Don't hesitate to ask questions if there's something you don't understand or want clarified before making your decision. A provider should be transparent and willing to answer any inquiries you might have about their services. Asking questions can help you ensure that you choose a provider that meets your specific needs and can provide the level of service you're looking for. So next time you're considering a provider, don't hold back on asking the questions that matter most to you!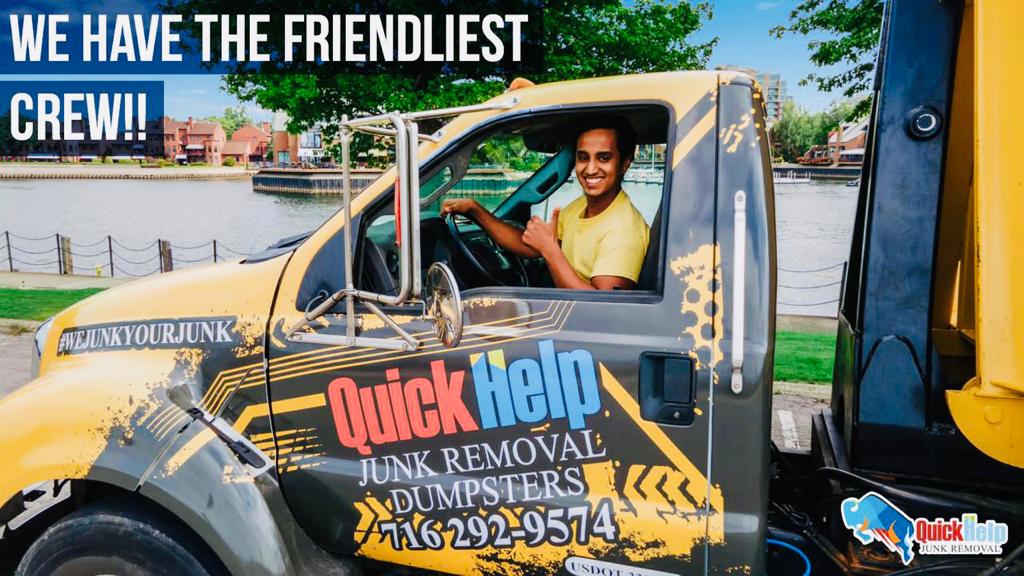 Are you ready to finally clear out all that unwanted junk from your home or office? Don't let the task overwhelm you – let us help! Our reliable and affordable junk removal and dumpster rental services are just what you need to get the job done quickly and efficiently. With a commitment to quality customer service and transparent pricing, we're confident that we can meet your unique needs and exceed your expectations. So why wait? Call us today at (716) 292-9574/(833) 784-2547 for quick help with all your junk removal needs!