In our fast-paced lives, it's easy for clutter to accumulate in our homes, causing stress and reducing our overall quality of life. Whether it's old furniture, broken appliances, or piles of unused items, getting rid of clutter can be a daunting task. Thankfully, there's a solution that simplifies the process and minimizes the mess – dumpster rental services. In this blog post, we'll explore the benefits of using a junk removal and dumpster rental company to declutter your home efficiently and regain control of your living space.
One of the main advantages of using a dumpster rental company is the ease of decluttering. Rather than dealing with numerous trips to the local landfill or trying to fit everything into your car for donation runs, you can simply toss everything into the rented dumpster. This saves you time, effort, and ensures that the clutter is removed from your property promptly.
Size Options to Suit Your Needs
Junk removal and dumpster rental companies offer a variety of dumpster sizes to accommodate different project requirements. Whether you're doing a small room renovation or a complete home cleanout, there's a dumpster size that fits your needs. These options provide flexibility, allowing you to choose the most suitable size without wasting money on an excessively large container.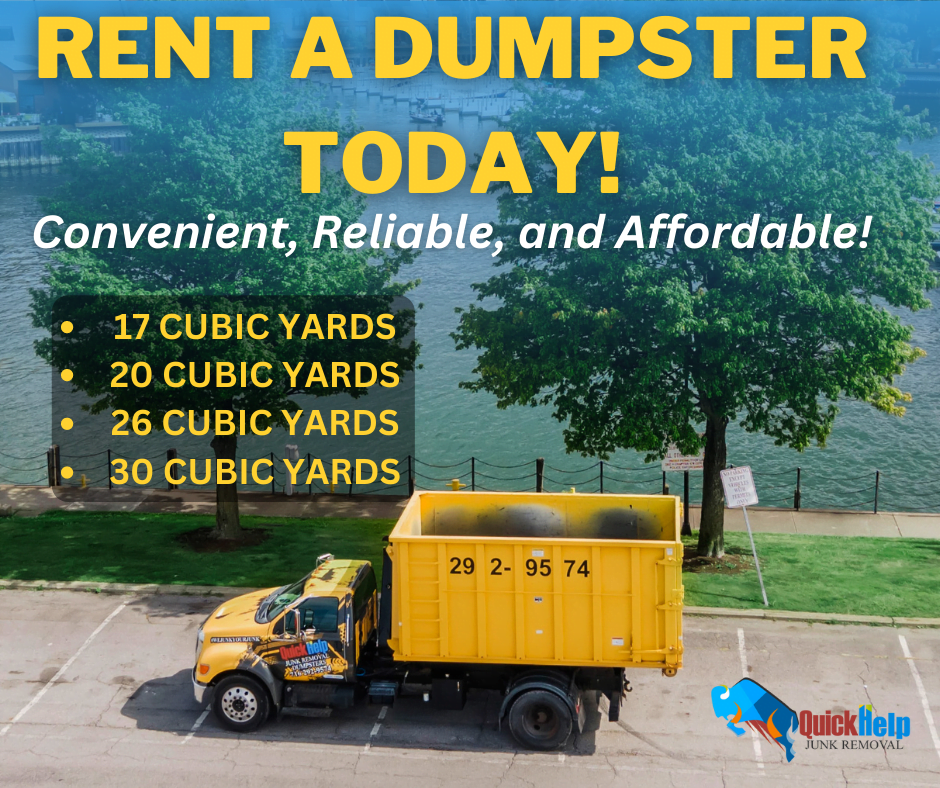 Safe and Environmentally-Friendly Disposal
When decluttering your home, it's essential to dispose of items responsibly. Professional dumpster rental companies follow strict guidelines for waste disposal, ensuring that recyclable materials are sent to recycling facilities and hazardous items are handled appropriately. Hiring a reputable company ensures that you're making a positive impact on the environment while maintaining a safe and clutter-free home.
Imagine the time it would take to gather, sort, and dispose of all the clutter from your home by yourself. With a dumpster rental service, the process becomes incredibly efficient. You won't have to worry about making multiple trips, and the cost of renting a dumpster is often more affordable than you might expect. Additionally, by having a designated container on-site, you can work at your own pace without the pressure of strict deadlines.
Simplify Home Renovations
If you're planning a home renovation or a major remodeling project, having a dumpster on-site can significantly simplify the process. You can dispose of construction debris, old materials, and unwanted items as you go, keeping the workspace clean and safe. This streamlines the project and allows contractors to focus on the job at hand rather than dealing with debris removal.
Create a Safer Home Environment
Cluttered homes pose safety risks, especially when items are piled up in walkways or stored haphazardly. Removing excess clutter through a dumpster rental service not only creates a more organized living space but also reduces the risk of accidents and injuries within your home. It's a proactive step towards creating a safer environment for you and your family.
Stress Reduction and Peace of Mind
Living in a cluttered space can lead to feelings of anxiety and overwhelm. Taking the initiative to declutter and organize your home can have a positive impact on your mental well-being. With a dumpster rental company, you won't have to worry about how to dispose of large or bulky items. This peace of mind allows you to focus on the decluttering process and the satisfaction of seeing your home transform into a more functional and inviting space.
By hiring a local junk removal and dumpster rental company, you're supporting businesses in your community. These companies often prioritize customer satisfaction, and word-of-mouth referrals are crucial to their success. By choosing a local company, you can expect personalized service and build a long-lasting relationship with a reputable provider in your area.
Renting a dumpster for your home decluttering project can simplify your life in numerous ways. From making the process easy and efficient to promoting a safer and more organized living space, the benefits are undeniable. So, if you find yourself drowning in clutter, consider enlisting the services of a junk removal and dumpster rental company. By doing so, you'll not only reclaim your living space but also contribute to a cleaner environment and support local businesses. Take the first step towards a clutter-free life and start enjoying the peace and tranquility of a simplified home.